Today on 10th March 2021 at 17:49 a member of Winstanley Bird and Tree Spotters Club witnessed: "There were a pair of birds in the tree and one flew directly into the nest I think from the sky and then flew to a branch before I started filming and then the bird got back in the nest"
Today Wednesday 3 March at 12pm, tree protector Marcus, who has become the most recognisable face of the York Gardens tree protest, descended from the iconic mature Black Poplar tree he has been living in for the last 10 days.
The protest began at dawn on Monday 22 February when tree protectors climbed into the tree in support of a long-running campaign by local residents to save it from being cut down.
This beautiful, much-loved tree, visible from all around the estate, was due for felling on 22 February to make way for the laying of a new electric cable. This is just the beginning of a planned redevelopment of the Winstanley and York Road estates by Wandsworth Council and Taylor Wimpey, which means that 124 of 173 trees are marked to be chopped down, mostly large mature and semi-mature trees.
But this is not the end of the protest. Marcus will be passing the baton to his friend Bradley, 'who's really well and happy and committed to staying for as long as it takes'. Marcus says his friend isn't daunted by the prospect of being alone in the tree. He describes him as 'a very spiritual guy, who looks at it with a meditative mindset and is looking forward to reading a book on The Secret Life of Trees that he's just been given'.
Says Marcus: 'It's been a wonderful time, an emotionally intense time, to see so many people coming together on the ground and online over this issue. These people have now been given a voice. If the tree had simply been cut down last Monday, this wouldn't have happened.
'It all feels really strong and powerful. We've had ups and downs, difficult times and fun times, music and dancing, banners and clapping, and children shouting "Save the trees".
'The initial planning was done really badly, without proper consultation. Initially this tree was not due to be chopped down, it wasn't part of the initial application, then they just added it. There are a lot of things to be rectified. With community involvement we now have this opportunity.'
The campaigners now want the whole development to be paused and reconsidered in the light of the climate emergency and the strong support among local residents for the protest. The tree is now home to nesting birds, so it would in any case be illegal to cut it down before the end of the nesting season.
'Trees take hundreds of years to grow and seconds to cut down,' said actor Jason Fleming, who visited the protesters and brought them food supplies on Monday. 'In an ever-expanding metropolis it is difficult and expensive to develop around living trees, but we owe it to our kids to let them play under the branches of urban green spaces and not in barren concrete pens.'
Local residents all say the cable could be diverted to spare the tree.
'We need to get to a place where developers see mature trees the same way they see roads or listed buildings – as something they have to plan around rather than destroy,'
said XR Wandsworth member and local resident Joe Taylor.
In future, say the campaigners, rather than focusing on new developments, all empty homes in the borough must be looked at instead. There are currently 268,000 long-term empty homes in England.
The tree protectors have issued the following demands to Wandsworth Council:
0) The tree is here to stay. This is a statement!
1) Halt the project immediately
2) Present all options considered to save the Black Poplar
3) Back to the drawing board as a project conducted by Citizen's Assembly
4) Support the Climate and Ecological Emergency Bill
5) Commandeer empty properties and make them available for people (just like in the second world war, as we are in an emergency)
6) Arboricultural assessment and treatment of the branches that were (previously to the occupation) hurt on the poplar.
Monday 1st March 2021
Tree protectors resisting the death and destruction of the 100-year-old Black Poplar tree in York Gardens, have entered their second week of occupation in the tree.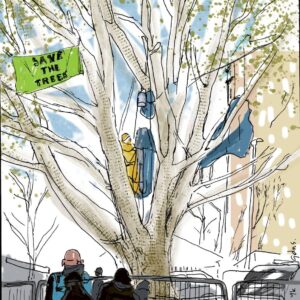 Three tree protectors arrived overnight on Sunday 21st/Monday 22nd February, and two of them have been in the tree continuously since then despite numerous attempts to illegally evict them.
Monday 1st March marked the 7th day of occupation, with tree protectors enduring close to freezing temperatures, as well as the illegal removal of their possessions out of the tree, including food and personal items.
Security guards have also been keeping people awake, including with barking dogs and bright lights.
People are encouraged by the growing campaign to save the tree, with a series of events and growing awareness and support among the neighbouring communities.
Reports on these events to come soon!